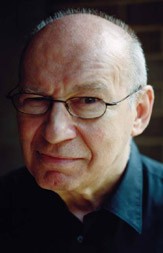 Foto di Warren Darius - Aftahi.

George Lois: art director, egocentrico, irrequieto, irruento, geniale, ad-show-man, greco. Di lui si racconta che per vendere un layout ad un cliente abbia minacciato di lanciarsi dalla finestra. La sua
vis persuasionis
è proverbiale: ipnotizzante e contagiosa. E' davvero una forza che nasce da dentro. Non una tecnica appresa, non roba da impiegati di Madison Avenue.
George Lois ha segnato un'epoca grafica e pubblicitaria, tra i '60 e i '70. Le sue agenzie: Doyle Dane Bernbach, Papert Koenig Lois, Lois Holland Callaway. Per saperne di più, oltre al link della sezione hall of fame, ve ne segnalo altri. Innanzitutto un estratto dal libro
What's the big idea
pubblicato da
adland
, poi linkatevi a
Salon
, a
New York metro
, a
Stop smiling
, ai due siti studenteschi dell'Università del Texas curati da
christine
e da
abbott
e, infine, al bellissimo editoriale di
Idanda
.
George Lois ha scritto anche parecchio (per essere un art director):
What's the big idea, Covering the 60's, George, be careful, The art of advertising, $ellebrity
. Come al solito li trovate in Amazon oppure alla Hoepli di Milano.
Last but not least:
"
Solo con l'assoluta mancanza di paura possiamo sconfiggere i draghi della mediocrità
."